Here is how you add products to your Shopify store. Products can be grouped into categories or Types and individual products can be added to more than one collection. Each Product can also have custom variations like size and colour.
We will start with the basics of adding a single product.
1. On the Admin Panel menu, locate the Products tab and click to see the products section. If you haven't added any products to your store yet, the screen will look like this.
2. Click the Add Product
3. On the next screen enter Product Title
4. Description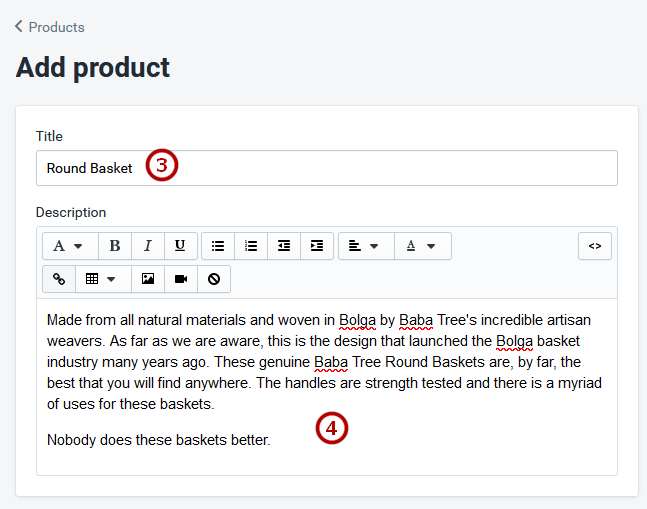 5. Add product image or images by drag and dropping or click Upload image button.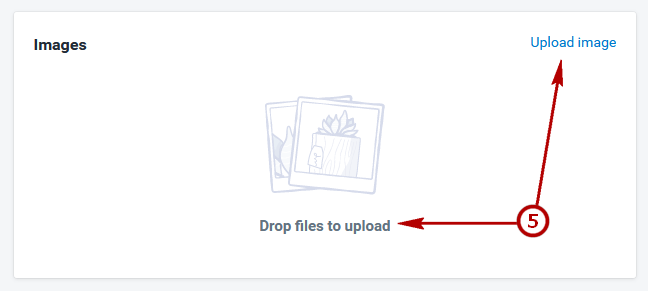 To upload and image for the product:
a. Click Upload image link
b. Your operating system will open a File Upload window. Go to the location of the image file you want to use.
c. Select the file for the product and be sure you see the file in the File name filed of the window.
d. Click Open.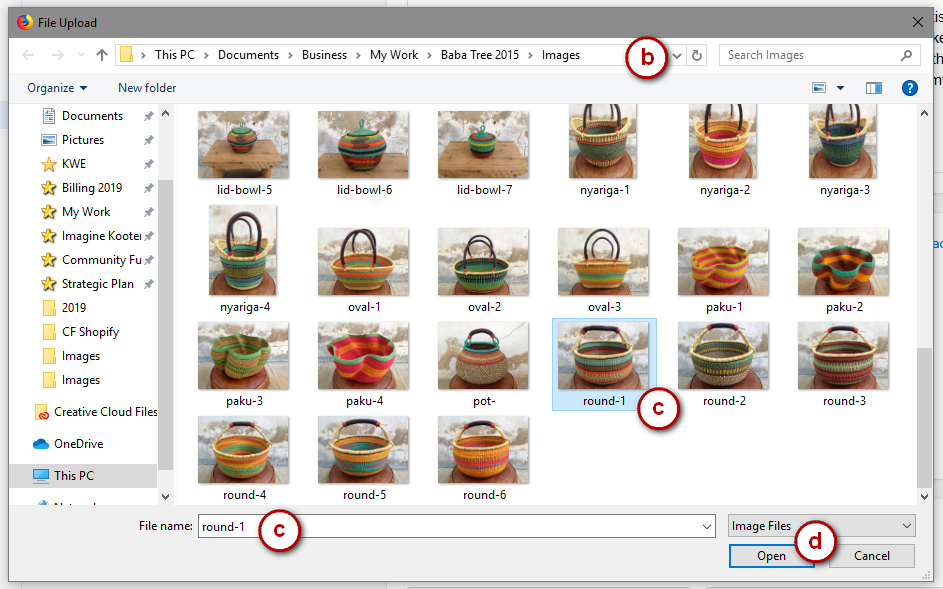 6. You will be returned to the Shopify add Product screen where your image is now visible in the Image section/module.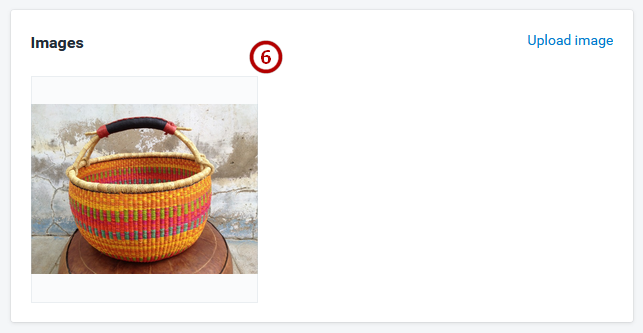 7. Next, in the pricing section, add price.
8. Tell Shopify whether to charge taxes on this product or not.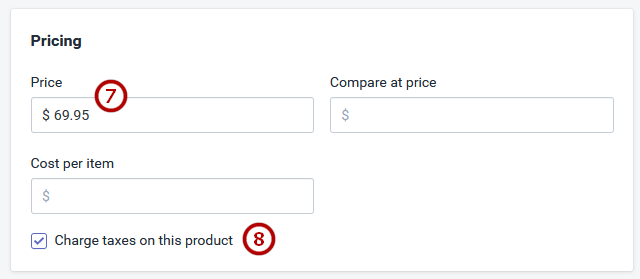 9. Next, in the inventory section, add SKU, if using.
10. Tell Shopify whether to track inventory on this product or not, and add quantity if tracking inventory.
11. Configure whether customers can purchase the product when it is out of stock. This option is only available if the store is tracking inventory.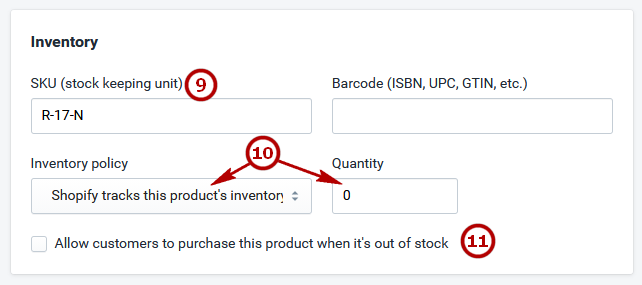 12. Next, in the shipping section, indicate if this is a physical product.
13. Enter product weight (only if shipping by weight)
14. Enter customs information such as country of origin and harmonized systems code (if applicable). You can use the search bar to find the corresponding HS code.
15. Select fulfillment service. Default is Shopify unless you are using another fulfillment service.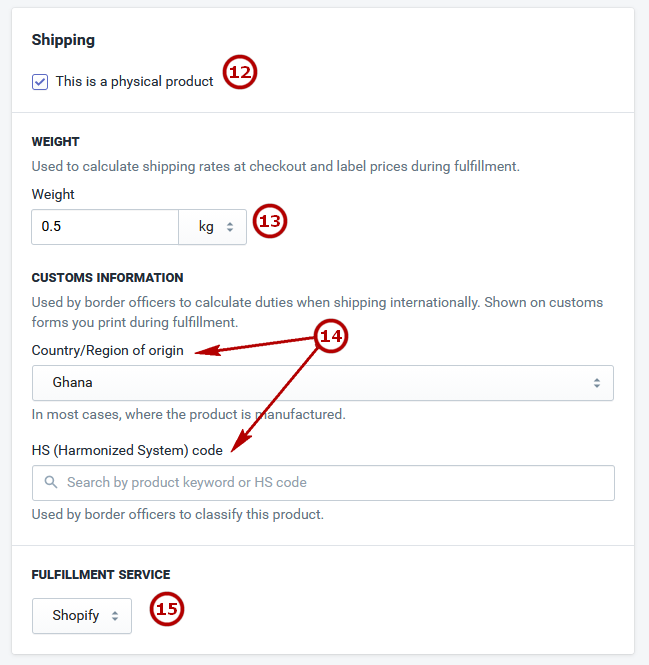 16. Next, in the variant section, add product variants such as size or colours. Click on add variant link to create your custom variants.

Here is an example of variants (below). You may price different variants differently and assign individual SKU and inventory details.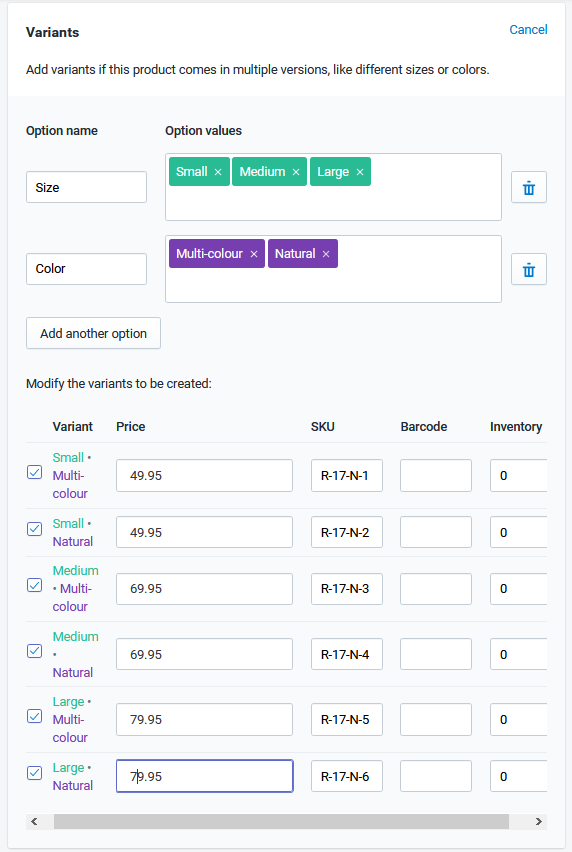 17. In the SEO section, you will see the search engine listing preview for your product. This field may be edited using the edit website SEO link. You will ntoice that using a search engine friendly title and description is vital to the product's SEO rankings.

18. At the top and bottom of the screen and click Save product. Don't worry, you can modify everything later.


---
Published Product
Once your product is saved, you can:
1. See product name
2. Duplicate or view product
3. Manage product availability across sales channels
4. Add product type and vendor if applicable
5. Assign the product to a collection
6. Add or assign tags to product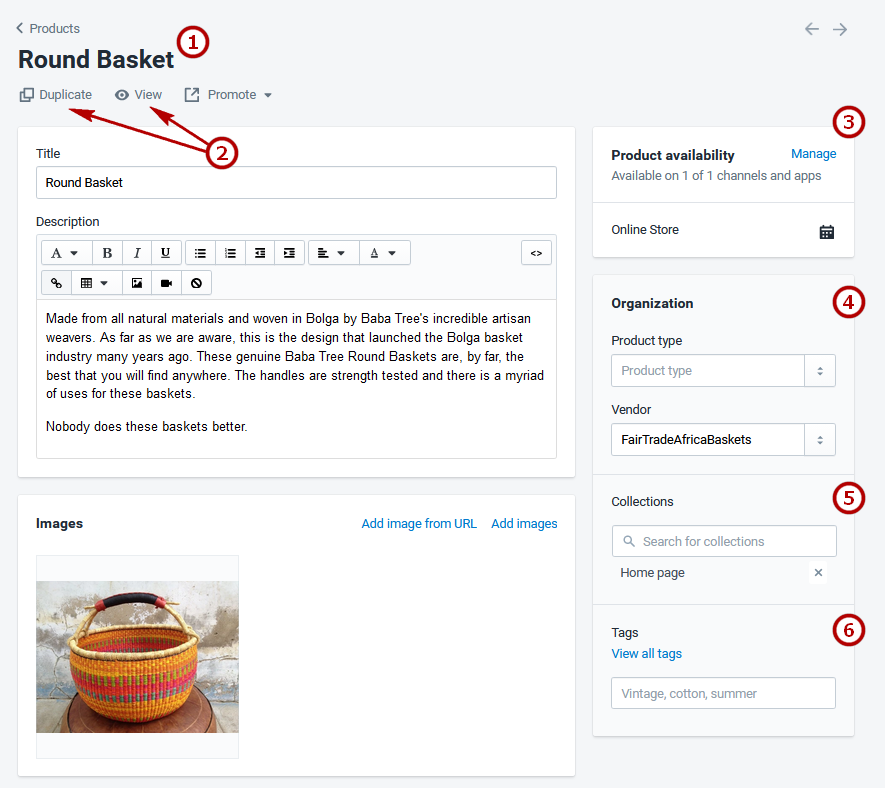 You should now be able to see this item on the Products screen of the Admin Panel.

Check your Storefront to see the item, it is automatically posted to the Front Page Collection.
---
More about Products on Shopify
A product is an individual item for sale in a Shopify store. Products are often physical goods, but they can also be a digital download (such as a movie, music or ebook file), or a service (equipment rental, work for hire, customization of another product or an extended warranty).
Shopify keeps track of all of your products and their inventory on your admin panel's products page. The products page is where you can:
Other features on the admin panel product page include:
Search and filter your products.
Perform Bulk actions to manage your Products.