Your Shopify store comes with out of the box blogging tools and a built in blog platform! Though the blogging platform offered through Shopify isn't as powerful as WordPress blogging, it serves as a great marketing tool if you don't already have a blog.
NOTE: WordPress websites let you embed Shopify products directly into the pages. If you already have a self-hosted WordPress site, you could integrate the two sites. This method is no longer available on WordPress.com websites.
Relevant blog content is great for boosting your e-commerce sales, you can use your store's Posts to:
Make announcements
Talk about your products in more detail
Demonstrate your expertise
Connect with your customers
Boost your shop's search engine rankings
Here are some good articles about the benefits of blogging:
To manage posts:
1. Click on the Online Store tab on the admin panel menu to expand and see the sub-tabs.
2. Click on Blog posts.
3. In the corresponding window pane, click on Create blog post.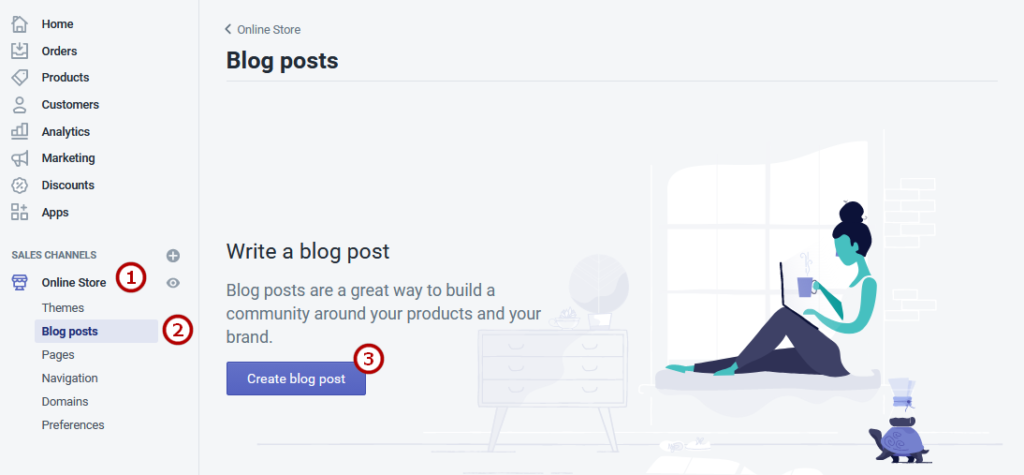 4. Add or modify post title.
5. Add or modify content to your post, including images, videos, hyperlinks and documents.
6. Use the visual editor to style your text and add media.
7. Add a featured image to your post.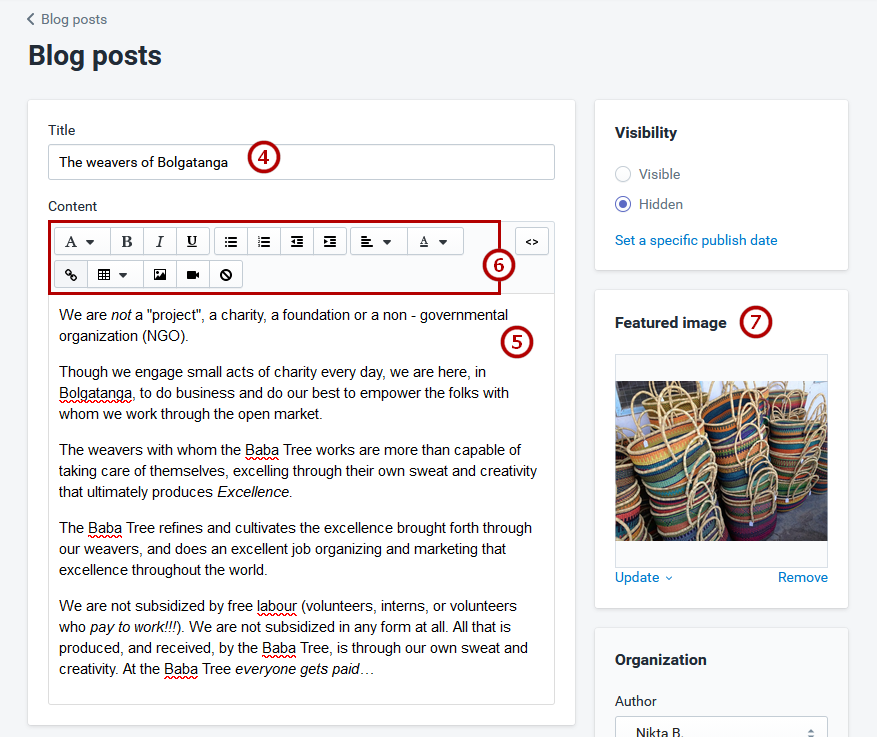 8. Add and excerpt to you post (optional).
9. Select post author (if you have more than one user adding blog posts).
10. Select or create Blog. Shopify creates a separate blog for different categories of articles
11. Add tags to your blog article, which are used to filter your posts.
12. View or edit the article's Search engine listing preview. You can customize how Search Engines see post title and description.
13. Save new posts or changes to existing posts or Delete a post from within this screen.
Once you have published a post, you can also manage comments left by visitors to your blog.
---
Learn all about managing Blog Posts and find step-by-step instructions and notes on the Shopify help pages.