Navigation links let users find your pages, collections, products, blog posts, etc.
Shopify uses menus for creating and manageing navigation.
Your store's main menu is the primary navigation menu often located at the top of the page (exact location depends on the theme).
The footer menu is usually on the very bottom of your site's pages.
URL redirects for old pages are also created and managed via the navigation section and navigation functions.
To Add or Edit Links
1. Go to the Online store tab on the control panel menu.
2. Click on the Navigation sub-tab.
3. In the corresponding window pane, Footer menu and Main menu links are visible.
4. You can also Add menu, if your theme has other navigation areas.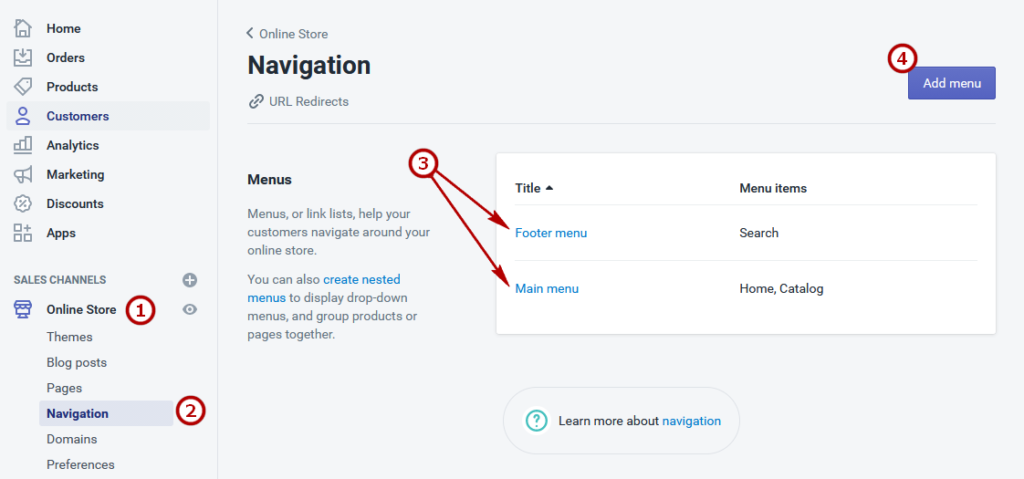 5. You can create URL Redirects for old pages/posts or redirecting users to addresses outside of Shopify.

NOTE: location and the variation of main link lists are controlled by your theme.
Add new link to a Theme Menu:
Here are step-by-step instructions for adding links to your navigation menus.
---
More about Navigation links on Shopify
From the Navigation page you can:
Reminder
Every time you create a new page, collection, blog, etc, you must add it to a navigation menu somewhere on your storefront so that it can be accessed by visitors to your site.