Shopify Admin Panel
Your Shopify Admin Panel look like this: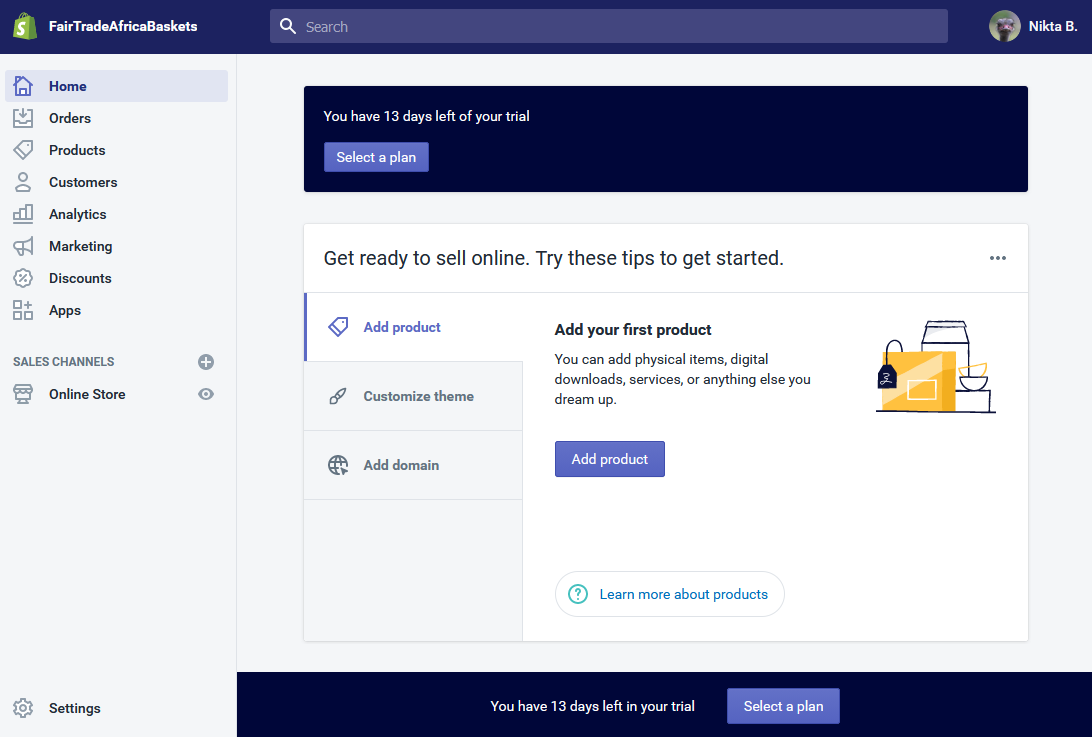 The Admin Menu is on the left of the screen. The content for an active admin menu tab is shown on the right hand pane of the screen.
The first screen visible is the Home screen (Dashboard) which usually displays a summary of site data.
Shopfiy Storefront

Locate the view your online store icon next to the Online Store tab on the Admin Panel navigation bar. Click it to see the front-end or Storefront of your website.
The storefront will look something like this: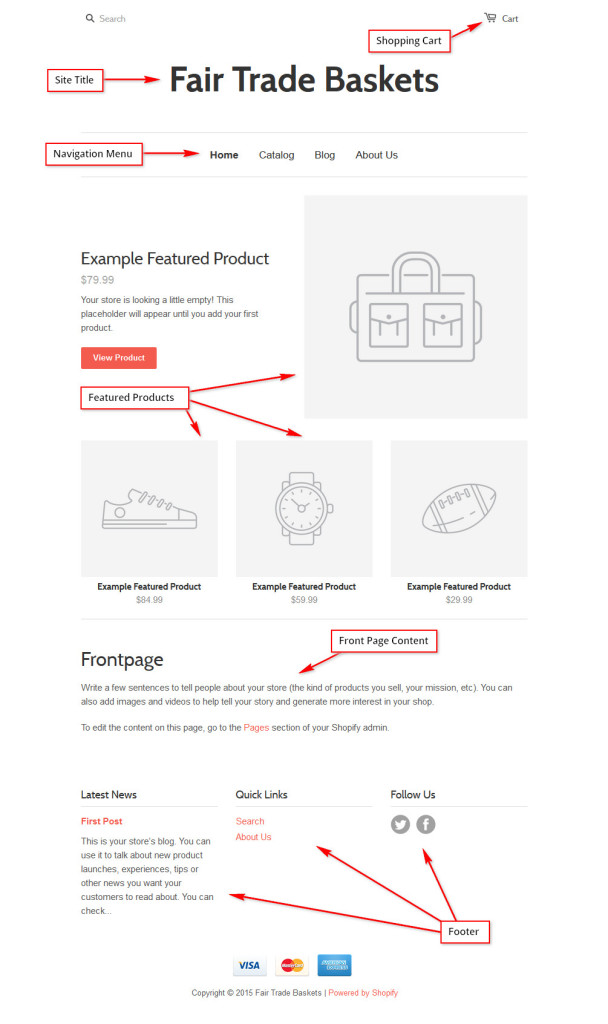 ---
Exploring Admin Panel Tabs
Here is a quick review of where to go on the admin panel for specific tasks using the admin panel menu tabs.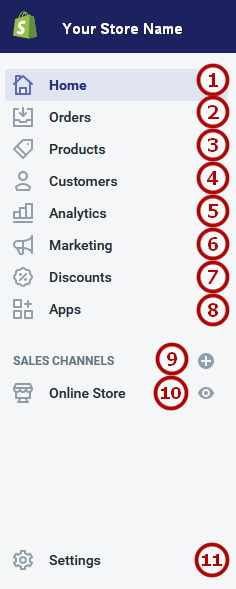 1. Home: or Dashboard is the first screen visible when you log in to your admin panel and usually displays a summary of site's data.
2. Orders: when you start selling, this is where you can manage the generated orders.
3. Products: where you create, edit and mange all your stores products, pricing, inventory and variations.
3. Products > Inventory: Manage your store's inventory, see when stock levels are low.
4. Customers: when you start selling, this is where all your customer data is stored and managed.
5. Analytics: when you start selling, this is where all your store analytics and performance data will be displayed.
5. Analytics > Reports: where you can see reports for products, orders, payments and taxes for different date ranges in table and chart form (not available on all plans).
6. Marketing: Create marketing campaigns, find potential customers to target to increase sales and track online store activity and better understand your visitors with a marketing app.
7. Discounts: where all discounts are configured and managed.
8. Apps: want additional features? Get some apps! (some fees apply).
9. Sales Channels: where you activate, configure and mange sales channels for integrating your online store.
10. Online Store: where you manage your store's theme (design & layout), blog posts, pages, navigation, domain & preferences.
10. Online store > view: Click on the eye icon to see your storefront.
11. Settings: where you configure store general settings and settings for payments, checkout, shipping, taxes & notifications. Account are also under settings and this is also where you upload files.

1. Online Store Name: Your store name will be on the top left corner of the Admin dashboard.
2. Search: Search bar so you can search anything on the back-end.
3. User Profile/Account: click on your Username to access your profile and user account.
Exploring Shopify Settings
The admin panel settings tabs are accessed under Settings. The Settings tab will take you to the settings page where you will see all settings options.
1. General settings: store details like name, account email, store address, etc.
2. Payments Providers settings: settings for accepting credit cards, PayPal, etc.
3. Checkout settings: settings for enabling/disabling customer accounts, for how you process orders, generating refunds, privacy & TOS.
4. Shipping settings: configure shipping settings like shipping rates, manual shipping settings, carrier-calculated shipping and fulfillment services.
5. Taxes settings: configure tax rates and settings and add tax overrides.
6. Locations settings: manage the places you stock inventory, fulfill orders, and sell products.
7. Notification settings: configure notification emails sent to you and customers.
8. Files: where you can add documents, images and videos so you can link to them from your pages and posts.
9. Sales Channel settings: manage your store's sale channels.
10. Account settings: configure tax rates and settings and add tax overrides.
11. Billing settings: manage your billing info and view your invoices from Shopify.
12. Legal settings: manage your store's legal pages.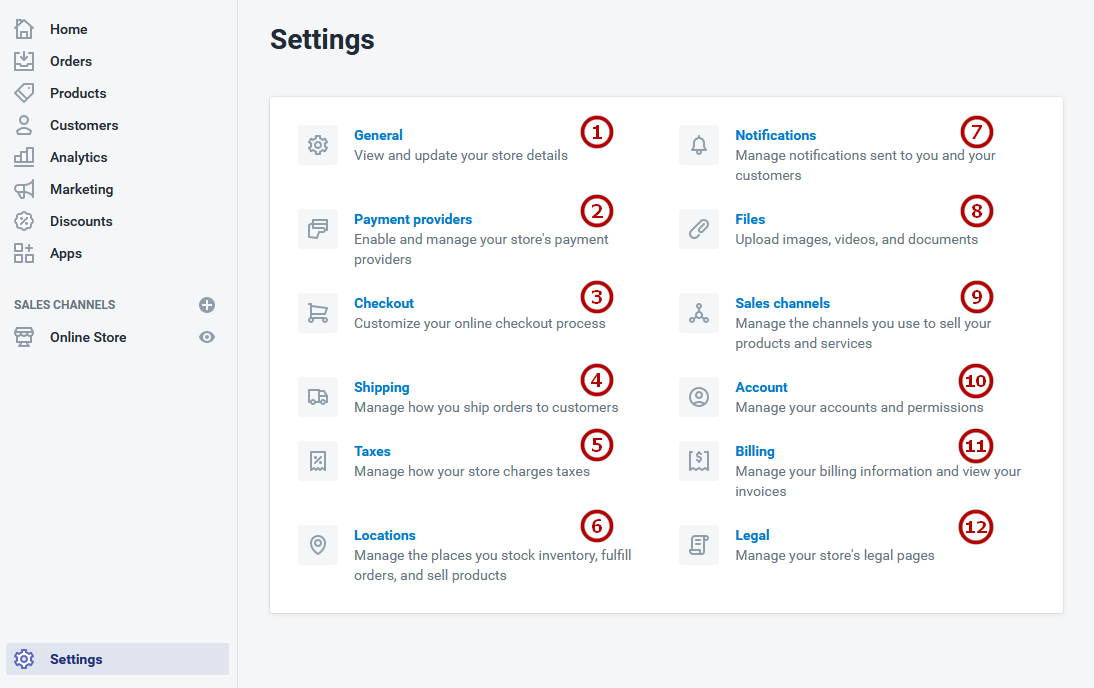 Save your settings: Be sure to save all settings after configuration or changes.
We will explore the basics of store settings in detail next.
If you remember which tab to go to for which task, you will have an easy time managing your Shopify store.